Group Lader: Piergiuseppe De Berardinis
Topics: Immunity and Infection
---
Two major projects are carried out in the lab:
1) Development of new antigen delivery systems.
Using the phage display platform as a vehicle able to induce antigen-specific cytotoxic T cells we perform analysis of the in vitro and in vivo immune response to delivered antigens, in wild type and transgenic mouse models. Administration of recombinant bacteriophage displaying tumor-associated antigens is able to generate protective immune response inhibiting tumor growth in animal models.
 fd vectors, engeneered by us for targeting dendritic cells confer adjuvanticity and activate both innate and adaptive immune responses.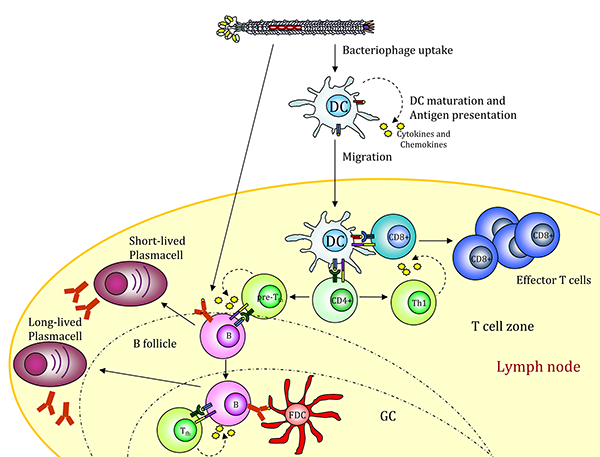 2) TCR transmembrane modifications.
Cellular therapy using T cells transduced with TCR genes specific for relevant pathogens is an appealing therapeutic strategy. We have described transmembrane modifications of alpha and beta TCR chains that improve TCR functions that can be useful for translational application in adoptive T cell therapy.
Key Publications
---
Rossella Sartorius, Piergiuseppe De Berardinis: "Coniugati fagici e loro usi".
Patent application n.102017000009270. Data di deposito: 27/01/2017
D'Apice L, Costa V, Sartorius R, Trovato M, Aprile M, De Berardinis P.
Stimulation of Innate and Adaptive Immunity by Using Filamentous Bacteriophage fd Targeted to DEC-205.
J Immunol Res. 2015;2015:585078. doi: 10.1155/2015/585078. Epub 2015 Aug 26
Sartorius R, D'Apice L, Trovato M, Cuccaro F, Costa V, De Leo MG, Marzullo VM, Biondo C, D'Auria S, De Matteis MA, Ciccodicola A, De Berardinis P. Antigen delivery by filamentous bacteriophage fd displaying an anti-DEC-205 single-chain variable fragment confers adjuvanticity by triggering a TLR9-mediated immune response.
Embo Molecular Medicine (2015) Apr 17. pii:e2011404525. Doi:10.15252/emmm.2014042525
Luciana D'Apice, Umbero Oreste, Piergiuseppe De Bereradinis:
"T cell receptors":. PCT/EP2015/075607 (2015) ;
International patent application n. WO2016/071343. Data di pubblicazione: 12/05/2016
Prisco Antonella, De Berardinis Piergiuseppe, De Falco Diana, Caivano Antonella:
"Multimeric proteins able to induce an antibody response against the beta-amyloid and use thereof".
European patent: n.2238160. Data rilascio: 07/01/2016
Mantile F, Trovato M, Santoni A, Barba P, Ottonello S, De Berardinis P, Prisco A.
Alum and Squalene-Oil-in-Water Emulsion enhance the titer and avidity of Anti-Ab antibodies induced by Multimeric Protein Antigen (I-11)E2, preserving the IgG1-skewed isotype distribution. Plos One (2014) Jul 1;9(7):e101474. Doi:10.1371/journal .pone 0101474.
Krebs SJ, Mc Burney S, Kovarik DN, Smith C, Jaworsky JP, Sutton WF, Trovato M, Waagmeester G, Barnett SJ, De Berardinis P, Haigwood N.
Multimeric scaffolds displaying the HIV-1 envelope MPER induce MPER-specific antibodies and cross-neutralizing antibodies when co-immunized with gp 160. Plos One (2014) Dec 16;9(12):e113463. Doi:10.1371/journal.pone 0113463.
Research Group
---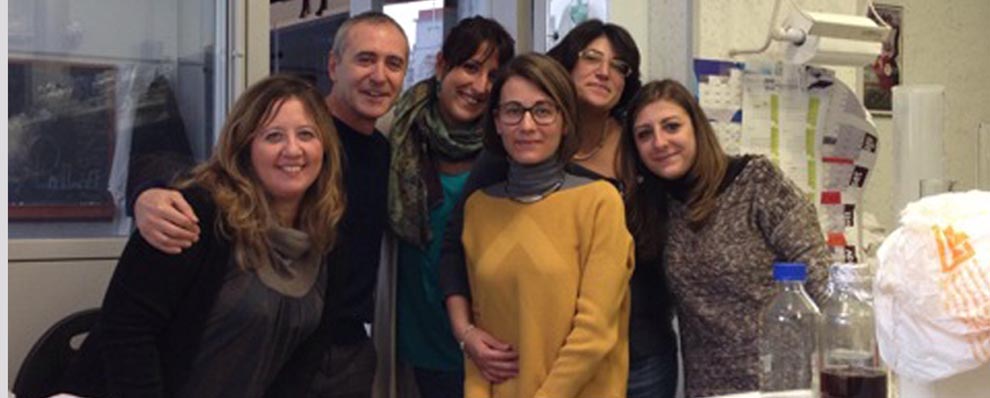 Luciana D'Apice ( Researcher )
Rossella Sartorius ( Researcher)
Maria Trovato maria.trovato@ibbc.cnr.it
Tel Lab. +39 0816132 716