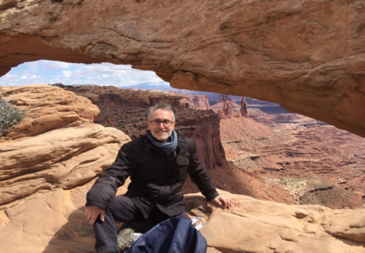 Piergiuseppe De Berardinis
---
---
Immunological studies for the formulation of innovative prophylactic and therapeutic strategies.
MD specialized in Immunology, Dr De Berardinis has committed his scientific career to studying the molecular and cellular mechanisms of the immune response.
In the recent years, he focused his interest in the attempt to translate the results of his researches into immunotherapeutic strategies and products. This was finalised in patent applications on immunologic arguments, such as the patent entitled: "Phages conjugates and their use ", which proposes the use of bacteriophages fd as a nanocarrier able to deliver antigenic determinants to human dendritic cells and induce sustained and protective immune responses
Two major projects are carried out in the lab:
1) Development of new antigen delivery systems.
Using the phage display platform as a vehicle able to induce antigen-specific cytotoxic T cells we perform analysis of the in vitro and in vivo immune response to delivered antigens, in wild type and transgenic mouse models. Administration of recombinant bacteriophage displaying tumor-associated antigens is able to generate protective immune response inhibiting tumor growth in animal models.
fd vectors, engeneered by us for targeting dendritic cells confer adjuvanticity and activate both innate and adaptive immune responses.
2) TCR transmembrane modifications.
Cellular therapy using T cells transduced with TCR genes specific for relevant pathogens is an appealing therapeutic strategy. We have described transmembrane modifications of alpha and beta TCR chains that improve TCR functions that can be useful for translational application in adoptive T cell therapy.
.
Education:
1994 EMBO Fellowship, Istitute Pasteur, Paris, France
1989 PhD Degree Univeristy of London, UK (examineers: Prof I Roitt andA Boylston).
1987-1989 Wellcome Trust Foundation Fellowship
1985-1987 Fondazione Cenci-Bolognetti Fellowship
1985 Specialization in in Allergology and Clinical Immunology, University la Sapienza, Rome, Italy.
1981 MD (thesis honour), University "La Sapienza", Rome, Italy.
Positions: Senior Scientist
Patents:
2019-present Member of the Scientific Board of the CNR Department of BioMedicine
(elected representative of Researchers)
2017-present Lecturer of Molecular Pathology and Immunology" at the Course of "Health Biotechnology" University Luigi Vanvitelli", Caserta, Italy
2013-2019 Member of Faculty of the PhD course "Biomolecular Sciences", University Luigi Vanvitelli, Caserta, Italy.
2013-2015 Invited "Visiting scientist" at the "Universidade Federal do Rio de Janeiro" Brasil
2008-2014 Member of the Board of Directors of the Italian society of Immunology, Clinical Immunology and Allergology (SIICA).
2004 Special mention of CNR President (Prof. F Pistella, prot. FP/n.571) for contributions to CNR achievements in the scientific research and CNR mission
Manoury B, De Berardinis P. (2019). Editorial: Targeted Antigen Delivery: Bridging Innate and Adaptive Immunity. Front Immunol. Mar 5;10:368.
Sartorius R, D'Apice L, Trovato M, Cuccaro F, Costa V, De Leo MG, Marzullo VM, Biondo C, D'Auria S, De Matteis MA, Ciccodicola A, De Berardinis P. (2015) Antigen delivery by filamentous bacteriophage fd displaying an anti-DEC-205 single-chain variable fragment confers adjuvanticity by triggering a TLR9-mediated immune response. Embo Molecular Medicine. Apr 17;7(7):973-88
Sartorius R, Pisu P, D'Apice L, Pizzella L, Romano C, Cortese G, Giorgina A, Santoni A, Velotti F., De Berardinis P. (2008). The use of filamentous bacteriophage fd to deliver MAGE-A10 or MAGE-A3 HLA-A2 restricted peptides and to induce strong anti-tumor CTL responses. J of Immunol. 180:3719-3728
De Berardinis P, Sartorius R, Fanutti C, Perham RN, Del Pozzo G, Guardiola G. (2000) Phage display of peptide epitopes from HIV-1 elicits strong cytolytic responses in vitro and in vivo. Nature Biotechnology. 18(8): 873-876
De Berardinis P, Londei M, James RF, Lake SP, Wise PH, Feldmann M. (1988) Do CD4-positive cytotoxic T cells damage islet b cells in type 1 diabetes? Lancet. Oct 8;2(8615): 823-824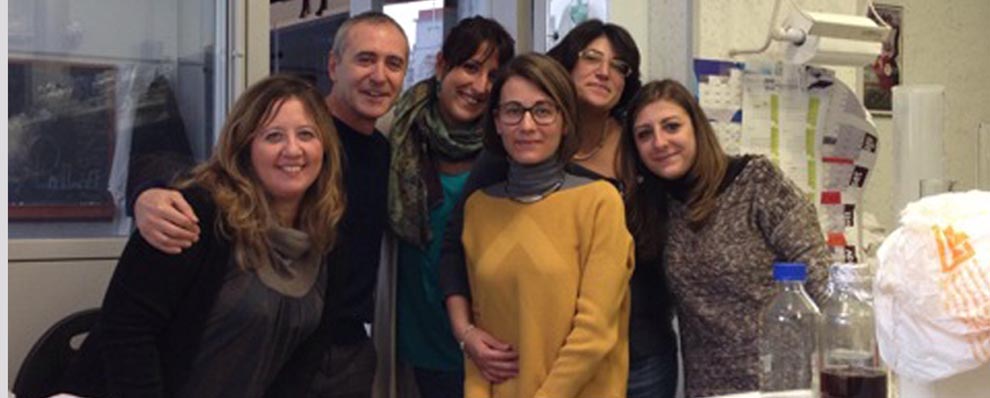 Researchers:
Luciana D'Apice
Rossella Sartorius
PhD student:
Roberta Manco roberta.manco@ibbc.cnr.it
Post-doctoral
Maria Trovato maria.trovato@ibbc.cnr.it