Group Leader : Sara Marinelli
Key words: autophagy, myelin, glia, disease-related biomarkers, immune cells
Topics : Neurobiology
---
Our research group is involved in three main fields of study:
A) Peripheral Neuropathies and Inflammatory Pain
Nutrition, metabolic disorders, aging and gender-differences in incidence of neuropathic pain development: spinal and peripheral nerve mechanisms of inflammation and degeneration.
New therapeutic targets and new pharmacological tools against pain.
Botulinum neurotoxins: new therapeutic applications and mechanisms of action
B) Spinal Neurodegeneration
Drugs able to confer neuroprotection and stimulate regeneration in models of spinal cord injury.
C) Amyotrophic Lateral Sclerosis
Systemic, peripheral and central immune response during temporal progression of ALS neurodegeneration in SOD1-G93A mice: identification of new drivers
EXPERIMENTAL SYSTEMS and SKILLS
Murine (surgical, chemical and transgenic) models of peripheral and central neurodegeneration and metabolic disorders inducing inflammatory and neuropathic pain.
In vivo investigations
Behavioral tests: spontaneous and nociceptive behaviors; motor function and muscular force; learning and memory.
Metabolic analyses: Glucose and Insulin Tolerance test, metabolic parameters (glycemia, cholesterol, triglycerides, etc), biomarkers of organs (liver, bladder, kidney) functionality, thermoregulation.
Ex-vivo investigations
Nervous tissue (brain, spinal cord, dorsal root ganglia, peripheral nerve, nerve endings, neuromuscular junction) immunohistological, morphological analysis and proteins expression.
Samples of organs (blood and nervous, adipose, muscular tissues) for biochemical and molecular identification of biomarkers
Key Pubblications
---
De Angelis, F., Vacca, V., Pavone, F., Marinelli, S. Impact of caloric restriction on peripheral nerve injury-induced neuropathic pain during ageing in mice (2020) European Journal of Pain, 24 (2), pp. 374-382.
Marinelli, S., Vacca, V., Angelis, F.D., Pieroni, L., Orsini, T., Parisi, C., Soligo, M., Protto, V., Manni, L., Guerrieri, R., Pavone, F. Innovative mouse model mimicking human-like features of spinal cord injury: efficacy of Docosahexaenoic acid on acute and chronic phases (2019) Scientific Reports, 9 (1), 8883.
Coccurello, R., Nazio, F., Rossi, C., De Angelis, F., Vacca, V., Giacovazzo, G., Procacci, P., Magnaghi, V., Ciavardelli, D., Marinelli, S. Effects of caloric restriction on neuropathic pain, peripheral nerve degeneration and inflammation in normometabolic and autophagy defective prediabetic Ambra1 mice (2018) PLoS ONE, 13 (12), e0208596.
Madaro, L., Passafaro, M., Sala, D., Etxaniz, U., Lugarini, F., Proietti, D., Alfonsi, M.V., Nicoletti, C., Gatto, S., De Bardi, M., Rojas-García, R., Giordani, L., Marinelli, S., Pagliarini, V., Sette, C., Sacco, A., Puri, P.L. Denervation-activated STAT3–IL-6 signalling in fibro-adipogenic progenitors promotes myofibres atrophy and fibrosis. (2018) Nature Cell Biology, 20 (8), pp. 917-927.
Finocchiaro, A., Marinelli, S., De Angelis, F., Vacca, V., Luvisetto, S., Pavone, F. Botulinum toxin b affects neuropathic pain but not functional recovery after peripheral nerve injury in a mouse model. (2018) Toxins, 10 (3), 128.
Research Group
---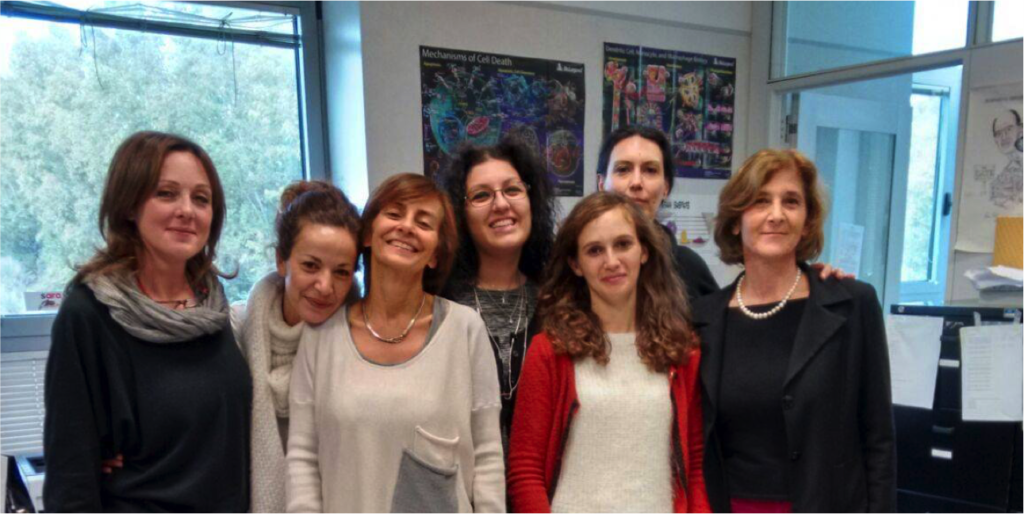 Researchers:
Post-doctoral fellows:
Programs and resources
---
GIOVANI RICERCATORI
INTERNATIONAL ASSOCIATION FOR STUDY OF PAIN