Group Leader: Giovina Ruberti
Topics: Molecular oncology and pathology, Immunity and Infection
Key words: Cancer biology, Schistosome biology, target and drug discovery
---
Our laboratory is active in the fields of cancer biology and Schistosoma mansoni biology. By developing model systems and investigating complex biological processes we aim to identify targets and molecules relevant for unmet medical needs: cancer and schistosomiasis, a neglected tropical disease caused by a parasitic trematode of the genus Schistosoma.
Main lines of research
Role of members of the Death Fold family (Fas receptor, FADD, TRADD, Caspases) in complex biological processes (i.e. apoptosis, cell cycle, cell migration) in physiology and in cancer. Cellular and murine (xenograft) model systems, protein-protein interactions, cell signaling and functional studies are used.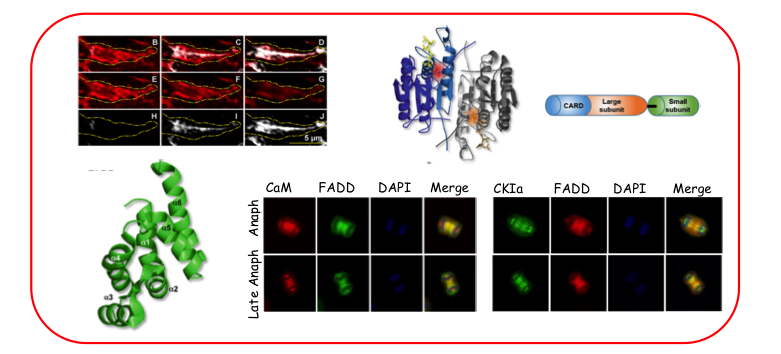 Mechanisms of resistance to target therapy in cellular and murine (xenograft) cancer models. Receptor tyrosine kinases in epithelial cancer model systems (i.e.NSCLC) are investigated. Bioinformatics, microarray, mRNA and lncRNA gene expression, in vitro and in vivo functional studies are instrumental for these studies.

Biology of the parasitic trematode Schistosoma mansoni (pairing, egg production, metabolism) and identification of novel multi-stage active compounds, and targets by phenotypic, molecular, bioinformatics, biochemical, protein structure and morphological studies.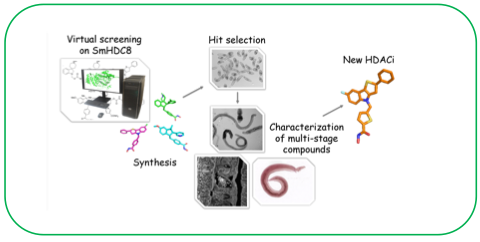 Key Pubblications
---
Saccoccia F, Brindisi M, Gimmelli R, Relitti N, Guidi A, Saraswati AP, Cavella C, Brogi S, Chemi G, Butini S, Papoff G, Senger J, Herp D, Jung M, Campiani G, Gemma S, Ruberti G. Screening and phenotypical characterization of Schistosoma mansoni Histone Deacetylase 8 (SmHDAC8) inhibitors as multistage antischistosomal agents. ACS Infect Dis. 2020 Jan 10;6(1):100-113. doi: 10.1021/acsinfecdis.9b00224.
Epub 2019 Nov 12.
Papoff G, Presutti D, Lalli C, Bolasco G, Santini S, Manelfi C, Fustaino V, Alemà S, Ruberti G. CASP4 gene silencing in epithelial cancer cells leads to impairment of cell migration, cell-matrix adhesion and tissue invasion. Sci Rep. 2018 Dec 7;8(1):17705. doi: 10.1038/s41598-018-35792-8.
Fustaino V, Presutti D, Colombo T, Cardinali B, Papoff G, Brandi R, Bertolazzi P, Felici G, Ruberti G. Characterization of epithelial-mesenchymal transition intermediate/hybrid phenotypes associated to resistance to EGFR inhibitors in non-small cell lung cancer cell lines. Oncotarget. 2017 Sep 22;8(61): 103340-103363. doi: 10.18632/oncotarget.21132. eCollection 2017 Nov 28.
Guidi A, Lalli C, Perlas E, Bolasco G, Nibbio M, Monteagudo E, Bresciani A, Ruberti G. Discovery and characterization of novel anti-schistosomal properties of the anti-anginal drug, Perhexiline and its impact on Schistosoma mansoni male and female reproductive systems. PLoS Negl Trop Dis. 2016 Aug 12;10(8):e0004928. doi: 10.1371/journal.pntd.0004928. eCollection 2016 Aug.
Presutti D, Santini S, Cardinali B, Papoff G, Lalli C, Samperna S, Fustaino V, Giannini G, Ruberti G. MET gene amplification and MET receptor activation are not sufficient to predict efficacy of combined MET and EGFR inhibitors in EGFR TKI-resistant NSCLC cells. PLoS One. 2015 Nov 18;10(11):e0143333. doi: 10.1371/journal.pone.0143333. eCollection 2015.
---
Research Group
Researchers:
Giuliana Papoff
Fulvio Saccoccia
email: fulvio.saccoccia@cnr.it
Post-doctoral fellows:
Valentina Fustaino
Valentina.fustaino@ibbc.cnr.it
Roberto Gimmelli
roberto.gimmelli@ibbc.cnr.it
PhD student:
Luigia Infante
luigia.infante@ibbc.cnr.it
Associated Researchers:
Loriana Castellani
loriana.castellani@ibbc.cnr.it
Stefano Alemà
stefano.alema@ibbc.cnr.it
Programmes and resources
---
2012-2020 Project CNR-CNCCS – Rare, Neglected and Poverty Related Diseases – Schistodiscovery Project. Schistosomiasis -Innovative drugs discovery, in collaboration with IRBM Science Park
2018-2020 MIUR-PRIN 20154JRJPP_006 (PI Unit)-Towards multi-stage drugs to fight poverty related and neglected parasitic diseases: synthetic and natural compounds directed against Leishmania, Plasmodium and Schistosoma life stages and assessment of their mechanisms of action (Coordinator Prof. Giuseppe Campiani, University of Siena)
2018-2020 "LIFE 2020" – POR FESR LAZIO 2014-2020, REGIONE LAZIO. PISTA (PI3k for Solid Tumor therapy) (Coordinator, Monica Binaschi; Menarini Ricerche).