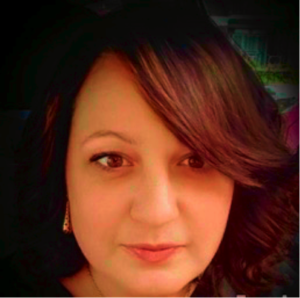 ---
Keywords: Neurotrophins, cholinergic neurons, brain insulin resistance

Cholinergic neurons of the Basal forebrain (BFCN) are emerging as key players in higher cortical and hippocampal circuits, controlling memory and attention in the mammalian brain. Main aim is to investigate neuronal networks and molecular underpinning of BFCN vulnerability to age and dietary cholesterol, as rationale for novel therapies bursting brain resilience to ageing and degeneration.
By focusing on cholinergic neurons of the medial septum, we found that these Nerve Growth factor (NGF)-dependent neurons are insulin sensitive and develop a state reminiscent of neuronal insulin resistance with reduced Glut2-driven glucose uptake in AD mouse models.
NGF and Insulin pathways interplay and converge onto common downstream metabolic hubs and their unbalance is of relevance for early synaptic dysfunctions typical of the prodromal state of several CNS conditions, like Alzheimer's Disease, Down's Syndrome, autism and metabolic diseases, including Type 2 Diabetes.
Nasal NGF administration is able to reverse insulin resistance and recover neuronal functions specifically via IRS1 disinhibition. Non-invasive brain delivery of small NGF mimetics through the nasal route is also under evaluation to rescue neurodegeneration and inflammation by targeting NGF-Responsive brain cells.
These studies are addressed by a combination of in vitro (rodent and human neurons), ex vivo (acute brain slices) and in vivo (mouse models and human tissues) approaches.

Education
2000 Degree (INMM-CNR/ La Sapienza University of Rome) "The NGF system in spinal cord injury and Multiple Sclerosis"
2003 Summer Studentship (Brain Research Center, Cambridge, UK) "Spinal cord neurodegeneration in the P301S Transgenic mice"
2005 PhD (INMM-CNR/TorVergata University of Rome) "NGF-driven adult neurogenesis in animal models of Multiple Sclerosis"
2006-2010 Post-doc (European Molecular Biology Laboratory-Mouse Biology Unit of Rome) "Novel Cre-LoxP mouse models of AD-like neurodegeneration"
2005 Course of Statistics "Biomedical Statistics", TorVergata University
2006 Metamorph Course, "Advanced Image analysis", EMBL
2008 Course of English "Effective Writing, English" by Epoc-Career and Training Solutions (UK) for EMBL Training
2009 Course of Statistics "Part I and Part II: Elements of Statistical Methodology", EMBL Training
2009 Course "Advanced presentation skills", by John Williams and associates (UK) for EMBL Training
2010 ScientificTraining, workshop "Leica laser capture Microdissection", EMBL
2010 Courses of Imaging analysis "Digital Imaging, ALFM1" and "Digital Imaging, ALFM2", EMBL Training
2019 FELASA Accredited Course "Laboratory animals Training", S. Lucia Foundation-IBBC
2019 Course of Bioinformatics "Introduction to Python", EMBL-Rome Bioinformatics Services
Positions
July 2019 -present: appointed CNR Researcher
2017-2019 Research Associate (CNR): "Experimental and clinical evidences on the role of Nerve Growth Factor in neurodegenerative ocular diseases", MIUR Grant to P. Tirassa
2015-2017 Research Associate (CNR): "Role of NGF/TrkA-ShcC signalling in the antiamyloidogenic processing of APP in brain physiology and Alzheimer's Disease-like pathology", MIUR Grant to P. Calissano
2014-2015 Research Associate (EBRI): The use of murine NGF for CNS Therapy ("Xiamen Project"), Xiamen Bioway
2011-2014 Research Associate (CNR): "Mechanisms of neurodegeneration and neurotrophic deficits", MIUR Grant to P. Calissano
2006 AIRC Research Fellow (EMBL): "Role of IGF-II mRNA Binding Protein 1 (IMP1) in breast cancer", L. Minichiello Lab
2007-2010 Post-doctoral position (EMBL): "Development, characterisation and validation of new and original models for Alzheimer's Disease", FP6 Grant MEMORIES, L. Minichiello Lab
2004-2005 Research Fellow (CNR): "NGF alteration in the brain and spinal cord of Multiple Sclerosis animal models: structural, biochemical and molecular characterizations and therapeutic potential", Dr. L. Aloe Lab
2002-2004 Research Fellow (CNR): "NGF and EAE: emerging role on neural stem cells and inflammatory response", Dr. L. Aloe Lab
2001-2002 Research Fellow (CNR): "NGF effect on Subventricular Zone Stem Cells in Multiple Sclerosis animal models", Dr. L. Aloe
2000-2001 Research Fellow (CNR): "Study of NGF high and low affinity receptors in the spinal cord of Multiple Sclerosis animal models", Dr. L. Aloe Lab
Honours/Awards
2017 Fellowship H2020-ICT-2016-2017, "Magnetic Diagnostic Assay for Neurodegenerative Disease"
2006 AIRC Fellowship,"Italian Association for Cancer Research"
2004-2005 FISM Senior Fellowship, "Italian Foundation for Multiple Sclerosis"
2002-2004 FISM Junior Fellowship,"Italian Foundation for Multiple Sclerosis"
2003 Research Prizes, "Istituto toniolo di studi Superiori" (Catholic University of Rome)
Triaca V, Fico E, Sposato V, Caioli S, Ciotti MT, Zona C, Mercanti D, La Mendola D, Satriano C, Rizzarelli E, Tirassa P, Calissano P. hNGF Peptides Elicit the NGF-TrkA Signalling Pathway in Cholinergic Neurons and Retain Full Neurotrophic Activity in the DRG Assay. Biomolecules, Special Issue "New Targets and Strategies in Regenerative Medicine", 2020 Feb 1;10(2). pii: E216. doi: 10.3390/biom10020216.
Triaca V, Carito V, Fico E, Rosso P, Fiore M, Ralli M, Lambiase A, Greco A, Tirassa P. Cancer stem cells-driven tumor growth and immune escape: the Janus face of neurotrophins. Aging (Albany NY). 2019 Dec 7;11(23):11770-11792. doi: 10.18632/aging.102499. Epub 2019 Dec 7.
Naletova I, Satriano C, Pietropaolo A, Gianì F, Pandini G, Triaca V, Amadoro G, Latina V, Calissano P, Travaglia A, Nicoletti VG, La Mendola D, Rizzarelli E. The Copper(II)-Assisted Connection between NGF and BDNF by Means of Nerve Growth Factor-Mimicking Short Peptides. Cells. 2019 Apr 1;8(4). pii: E301. doi: 10.3390/cells8040301.
Sposato V, Canu N, Fico E, Fusco S, Bolasco G, Ciotti MT, Spinelli M, Mercanti D, Grassi C, Triaca V, Calissano P. The Medial Septum Is Insulin Resistant in the AD Presymptomatic Phase: Rescue by Nerve Growth Factor-Driven IRS1 Activation. Mol Neurobiol. 2019 Jan;56(1):535-552. doi: 10.1007/s12035-018-1038-4. Epub 2018 May 7.
Triaca V, Coccurello R, Giacovazzo G. The neuronal Shc adaptor in Alzheimer's Disease. Aging (Albany NY). 2018 Jan 22;10(1):5-6. doi: 10.18632/aging.101368. Invited Review
Canu N, Amadoro G, Triaca V, Latina V, Sposato V, Corsetti V, Severini C, Ciotti MT, Calissano P. The Intersection of NGF/TrkA Signaling and Amyloid Precursor Protein Processing in Alzheimer's Disease Neuropathology. Int J Mol Sci. 2017 Jun 20;18(6). pii: E1319. doi: 10.3390/ijms18061319. Invited Review
Canu N, Pagano I, La Rosa LR, Pellegrino M, Ciotti MT, Mercanti D, Moretti F, Sposato V, Triaca V, Petrella C, Maruyama IN, Levi A, Calissano P. Association of TrkA and APP Is Promoted by NGF and Reduced by Cell Death-Promoting Agents. Front Mol Neurosci. 2017 Jan 31;10:15. doi: 10.3389/fnmol.2017.00015. eCollection 2017.
Triaca V, Calissano P. Impairment of the nerve growth factor pathway driving amyloid accumulation in cholinergic neurons: the incipit of the Alzheimer's disease story? Neural Regen Res. 2016 Oct;11(10):1553-1556. Invited Review.
Triaca V, Sposato V, Bolasco G, Ciotti M.T., Pelicci P, Bruni A.C., Cupidi C, Maletta R, Canu N and Calissano P. NGF controls APP cleavage by downregulating APP phosphorylation at Thr668: Relevance for Alzheimer's Disease. Aging Cell. 2016 Aug;15(4):661-72. doi: 10.1111/acel.12473.
Triaca V. Molecular mechanisms of Alzheimer's disease: NGF modulation of APP processing. Adipobiology 2013; 5:1-12. Invited Review
Muller M*, Triaca V*, Besusso D, Costanzi M, Horn J, Koudelka J, Geibel M, Cestari V, and Minichiello L. Loss of NGF-TrkA Signaling From The Central Nervous System Is Not Sufficient To Induce Cognitive Impairments in Young-Adult or Intermediate- Aged Mice. Journal of Neuroscience, 2012, 32:14885–14898. *co-first authors
Serguera C, Triaca V, Kelly-Barrett J, Banchaabouchi MA, Minichiello L. Increased dopamine after mating impairs olfaction and prevents odor interference with pregnancy. Nat Neurosci. 2008 Aug;11(8):949-56. IF:
Mutti E, Veber D, Stampachiacchere B, Triaca V, Gammella E, Tacchini L, Aloe L, Scalabrino G. Cobalamin deficiency-induced down-regulation of p75-immunoreactive cell levels in rat central nervous system. Brain Res. 2007 Jul 9;1157:92-9.
Tuveri MA, Triaca V, Aloe L. The nerve growth factor induces cutaneous ulcer healing in "non-responder" tranplanted skin. Ann ISS. 2006;42(1):94-6.
Del Porto F, Aloe L, Lagana B, Triaca V, Nofroni I, D'Amelio R. Nerve growth factor and brain-derived neurotrophic factor levels in patients with rheumatoid arthritis treated with TNF-alpha blockers. Ann N Y Acad Sci. 2006 Jun;1069:438-43.
Fiore M, Amendola T, Triaca V, Alleva E, Aloe L. Fighting in the aged male mouse increases the expression of TrkA and TrkB in the subventricular zone and in the hippocampus. Behav Brain Res. 157:351-62, 2005.
Triaca V and L Aloe. Neuronal markers expression of NGF-primed bone marrow cells (BMCs) transplanted in the brain of 6-hydroxydopamine and ibotenic acid lesioned littermate mice. Neurosci Lett. 384:82-6, 2005.
Triaca V, Tirassa P and Aloe L. Presence of nerve growth factor and TrkA expression in the SVZ of EAE rats: evidence for a possible functional significance. Exp Neurol. 191: 53-64, 2005.
Aloe L, Iannitelli A, Triaca V. Nerve growth factor and multiple sclerosis: studies on animal models and in humans. Ann ISS, 40:89-99, 2004.
Marinova TT, Velikova KK, Petrov DB, Kutev NS, Stankulov IS, Chaldakov GN, Triaca V, Manni L, Aloe L. Structural and ultrastructural localization of NGF and NGF receptors in the thymus of subjects affected by myasthenia gravis. Autoimmunity, 37:587-92, 2004.
Triaca V and Tirassa, P. Circulating NGF antibody alters the distribution of NG2 and CD56 positive cells in the brain of an animal model of inflammatory disorder. (EAE). Arch. Ital. Biol., 141:127-39, 2003.
Fiore M, Amendola T, Triaca V, Tirassa P and Aloe L. Agonistic encounters in aged male mouse potentiate the expression of endogenous brain NGF and BDNF: implication for brain plasticity. Eur J Neurosci 17:1455-64, 2003.
Tirassa P, Triaca V, Amendola T, Fiore M and Aloe L. EGF and NGF injected into the brain of old mice enhance BDNF and Chat in proliferating subventricular zone. J Neurosci Res. 2003, 72: 557-64.
Oderfeld-Nowak, B, Zaremba, M, Kwiatkowska-Patzer, B, Triaca, V and Aloe, L. High –affinity NGF receptor in the rat spinal cord during acute and chronic phases of experimental autoimmune encephalomyelitis: a possible functional significance. Arch. Ital. Biol. 2003, 14:103-16.
Antonelli A, Santucci D, Amendola T, Triaca V, Corazzi G, Francia N, Fiore M, Alleva E and Aloe L. Short-term hypergravity influences NGF and BDNF expression, and mast cell distribution in the lungs and heart of adult male mice. J Grav Phys 9: 29-38, 2002.
Fiore, M, Triaca, V, Amendola, T, Tirassa, P and Aloe L. Brain NGF and EGF administration improves passive avoidance response and stimulates brain precursor cells in aged male mice. Physiol Behav. 77: 437-43, 2002.
Micera A, Properzi F, Triaca V, Aloe L. Nerve growth factor antibody exacerbates neuropathological signs of experimental allergic encephalomyelitis in adult lewis rats. J Neuroimmunol. 2000 104:116-23.
Chaldakov, GN, Fiore, M, Hristova, M, Stankulov, I, Triaca, V, Ghenev, P and Aloe, L. Adipose tissue-secreted molecules (adipokines): neuroimmune implications. Clin. Appl. Immunol. Invest. 2000, 1: 11-16.
De Santis S, Pace A, Bove L, Cognetti F, Properzi F, Fiore M, Triaca V, Savarese A, Simone MD, Jandolo B, Manzione L, Aloe L. Patients treated with antitumor drugs displaying neurological deficits are characterized by a low circulating level of nerve growth factor. Clin Cancer Res. 6:90-5, 2000.
Chaldakov, GN, Fiore, M, Stankulov, IS, Triaca, V, Ghenev, PI and Aloe, L. Neuroimmune hypothesis of atherosclerosis: nerve growth factor and mast cells in coronary arthery and associated adipose tissue. Biomed Rev 1999 10: 41-53.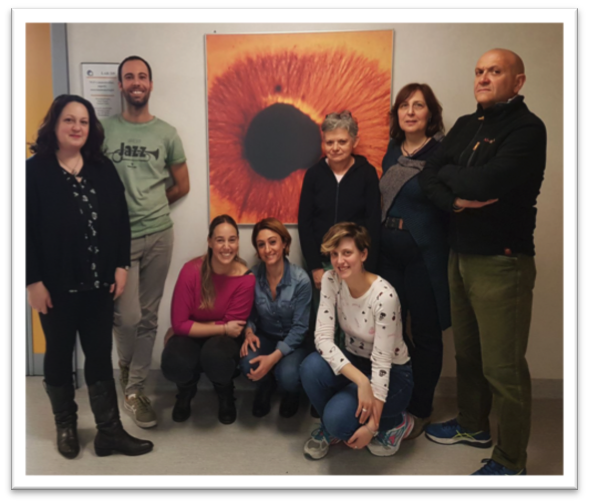 Collaborations
Dr. Tirassa, Prof. Greco (IBBC-CNR/Univ. La Sapienza)
Prof. Rizzarelli, Prof. Satriano (Univ. Catania)
Prof. La Mendola (Univ. Pisa)
Prof. Grassi, Prof. Fusco (Cattolica Univ. Del Sacro Cuore-IRCCS)
Prof. Maioli (Karolinska Institute)
Alumni
Fico, Degree, La Sapienza University/EBRI "Role of hydroxycholesterols in the interaction between neurotrophic signaling and APP metabolism in CNS neurons" 2016
Sposato, PhD "Neuroscience", TorVergata University/EBRI "NGF controls APP cleavage and insulin signaling in septal neurons. Relevance for Alzheimer's and metabolic Diseases" 2016
Forni, Undergraduate training, La Sapienza University/EBRI 2018
Madhifar, Undergraduate training "Pharmacology", TorVergata University 2019
Pictured Left to Right: Viviana Triaca, Marco Segatto, Pamela Rosso, Valentina Carito, Stefania Ciafrè, Elena Fico, Paola Tirassa, Marco Fiore.
2019 "Grandi Progetti di Ricerca", Bandi di Ateneo, Università La Sapienza: "Characterization of laryngeal squamous cell carcinoma: molecular profiling of p75 neurotrophic receptor in cancer stem cells and circulating tumour cells to predict tumour aggressiveness and treatment response". CNR partner.