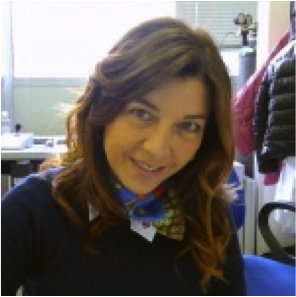 ---
Keywords: Mouse Mutants Production, ES cells colture, INFRAFRONTIER
PHD in Biotechnology- Mouse mutant production for UE (EUCOMM, EUCOMM Tools, IMPC); "Head manager" ES cells colture , mouse colony manager. High throughtput mouse mutant production by host blastocyst embryonal stem cells injection, pronuclear DNA injection and zygotes injection by CRISP/CAS9 technology. Cryopreservation, genotype and phenotype characterization of mutant mice produced (EMMA/INFRAFRONTIER).
Education:
European PhD "Scienze Pasteuriane "
University "La Sapienza" in Rome
Dete: 2005-10-10
Thesis: "Funzioni Regolative del Proteasoma"
Degree "Biological Science"
University "La Sapienza" in Rome
Area disciplinare: Biotechnology
Date: 2002-02-07
Thesis: "Studio genetico dei domini strutturali di una subunità della particella regolativa del proteasoma: confronto tra gli ortologhi di Saccharomyces cerevisiae, Arabidopsis thaliana e Homo sapiens"
Enabling Biological Job
University "La Tuscia" in Viterbo
Positions:
Resercher   CNR   Level   III, N.Matr. 12871
1. Functional loss of Ccdc1 51 leads to hydrocephalus in a mouse model of primary ciliary dyskinesia.
Chiani F, Orsini T, Gambadoro A, Pasquini M, Putti S, Cirilli M, Ermakova O, Tocchini-Valentini GP.
Dis Model Mech. 2019 Aug 2;12(8). pii: dmm038489. doi: 10.1242/dmm.038489.
2. Genome wide conditional mouse knockout resources
C Kaloff, K Anastassiadis, A Ayadi, R Baldock, J Beig, M-C Birling, A Bradley, SDM Brown, A Bürger, W Bushell, F Chiani, FS Collins, B Doe, JT Eppig, RH Finnell, C Fletcher, P Flicek, M Fray, RH Friedel, A Gambadoro, H Gates, J Hansen, Y Herault, GG Hicks, A Hörlein, M Hrabé de Angelis, V Iyer, PJ de Jong, G Koscielny, R Kühn, P Liu, KCK Lloyd, RG Lopez, S Marschall, S Martínez, C McKerlie, T Meehan, H von Melchner, M Moore, SA Murray, A Nagy, LMJ Nutter, G Pavlovic, A Pombero, H Prosser, R Ramirez-Solis, M Ringwald, B Rosen, N Rosenthal, J Rossant, P Ruiz Noppinger, E Ryder, WC Skarnes, J Schick, F Schnütgen, P Schofield, C Seisenberger, M Selloum, D Smedley, EM Simpson, AF Stewart, L Teboul, GP Tocchini Valentini, D Valenzuela, AP West, W Wurst
Drug Discovery Today : Disease Model online September 2017 https://doi.org/10.1016/j.ddmod.2017.08.002
3. Three-Dimensional microCT imaging of murine embryonic development fromimmediate post-implantation to organogenesis: application for phenotyping analysis of early embryonic lethality in mutant animals
Ermakova O, Orsini T, Gambadoro A, Chiani F, Tocchini- Valentini GP.
Mamm Genome. 2017 Nov 23. doi: 10.1007/s00335-017-9723-6. [Epub ahead of print]
4. High-throughput discovery of novel developmental phenotypes
Dickinson ME, Flenniken AM, Ji X, Teboul L, Wong MD, White JK, Meehan TF, Weninger WJ, Westerberg H, Adissu H, Baker CN, Bower L, Brown JM, Caddle LB, Chiani F, Clary D, Cleak J, Daly MJ, Denegre JM, Doe B, Dolan ME, Edie SM, Fuchs H, Gailus-Durner V, Galli A, Gambadoro A, Gallegos J, Guo S, Horner NR, Hsu CW, Johnson SJ, Kalaga S, Keith LC, Lanoue L, Lawson TN, Lek M, Mark M, Marschall S, Mason J, McElwee ML, Newbigging S, Nutter LM, Peterson KA, Ramirez-Solis R, Rowland DJ, Ryder E, Samocha KE, Seavitt JR, Selloum M, Szoke-Kovacs Z, Tamura M, Trainor AG, Tudose I, Wakana S, Warren J, Wendling O, West DB, Wong L, Yoshiki A; International Mouse Phenotyping Consortium; Jackson Laboratory; Infrastructure Nationale PHENOMIN, Institut Clinique de la Souris (ICS); Charles River Laboratories; MRC Harwell; Toronto Centre for Phenogenomics; Wellcome Trust Sanger Institute; RIKEN BioResource Center, MacArthur DG, Tocchini-Valentini GP, Gao X, Flicek P, Bradley A, Skarnes WC, Justice MJ, Parkinson HE, Moore M, Wells S, Braun RE, Svenson KL, de Angelis MH, Herault Y, Mohun T, Mallon AM, Henkelman RM, Brown SD, Adams DJ, Lloyd KC, McKerlie C, Beaudet AL, Bućan M, Murray SA.
Nature (2016) Sep 14;537(7621):508-514. doi:10.1038/nature19356.
5. Analysis of mammalian gene function through broad-based phenotypic screens across a consortium of mouse clinics.
de Angelis MH, Nicholson G, Selloum M, White J, Morgan H, Ramirez-Solis R, Sorg T, Wells S, Fuchs H, Fray M, Adams DJ, Adams NC, Adler T, Aguilar-Pimentel A, Ali-Hadji D, Amann G, André P, Atkins S, Auburtin A, Ayadi A, Becker J, Becker L, Bedu E, Bekeredjian R, Birling MC, Blake A, Bottomley J, Bowl M, Brault V, Busch DH, Bussell JN, Calzada-Wack J, Cater H, Champy MF, Charles P, Chevalier C, Chiani F, Codner GF, Combe R, Cox R, Dalloneau E, Dierich A, Di Fenza A, Doe B, Duchon A, Eickelberg O, Esapa CT, El Fertak L, Feigel T, Emelyanova I, Estabel J, Favor J, Flenniken A, Gambadoro A, Garrett L, Gates H, Gerdin AK, Gkoutos G, Greenaway S, Glasl L, Goetz P, Da Cruz IG, Götz A, Graw J, Guimond A, Hans W, Hicks G, Hölter SM, Höfler H, Hancock JM, Hoehndorf R, Hough T, Houghton R, Hurt A, Ivandic B, Jacobs H, Jacquot S, Jones N, Karp NA, Katus HA, Kitchen S, Klein-Rodewald T, Klingenspor M, Klopstock T, Lalanne V, Leblanc S, Lengger C, le Marchand E, Ludwig T, Lux A, McKerlie C, Maier H, Mandel JL, Marschall S, Mark M, Melvin DG, Meziane H, Micklich K, Mittelhauser C, Monassier L, Moulaert D, Muller S, Naton B, Neff F, Nolan PM, Nutter LM, Ollert M, Pavlovic G, Pellegata NS, Peter E, Petit-Demoulière B, Pickard A, Podrini C, Potter P, Pouilly L, Puk O, Richardson D, Rousseau S, Quintanilla-Fend L, Quwailid MM, Racz I, Rathkolb B, Riet F, Rossant J, Roux M, Rozman J, Ryder E, Salisbury J, Santos L, Schäble KH, Schiller E, Schrewe A, Schulz H, Steinkamp R, Simon M, Stewart M, Stöger C, Stöger T, Sun M, Sunter D, Teboul L, Tilly I, Tocchini-Valentini GP, Tost M, Treise I, Vasseur L, Velot E, Vogt-Weisenhorn D, Wagner C, Walling A, Weber B, Wendling O, Westerberg H, Willershäuser M, Wolf E, Wolter A, Wood J, Wurst W, Yildirim AÖ, Zeh R, Zimmer A, Zimprich A; EUMODIC Consortium, Holmes C, Steel KP, Herault Y, Gailus-Durner V, Mallon AM, Brown SD.
Nat Genet. (2015) Jul 27. doi: 10.1038/ng.3360. [Epub ahead of print]